How We Spend Our Days Are Very Important To Happiness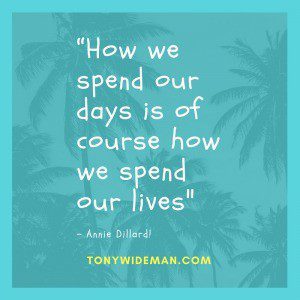 How We Spend Our Days
"How we spend our days is of course how we spend our lives. What we do with this hour and that one is what we are doing." – Annie Dillard,
How we spend our days are important to consider. Hours become days. Days become weeks. Weeks become months. Months become years. Years become lives. Procrastination becomes lives lost and wasted.
How we spend our days are very important. Tell me how you are spending the 168 hours in this week you have been blessed with. Don't waste them 😉
Would You Like To Create Great Memories With Good Friends and Family
Don't work 8 hours for a company then go home and not work on your own dreams. You prove every day you are capable of building dreams 
( someone else's )
. This powerful free training will help you build your dreams for you and your family?