How We Spend Our Days Are Very Important To Happiness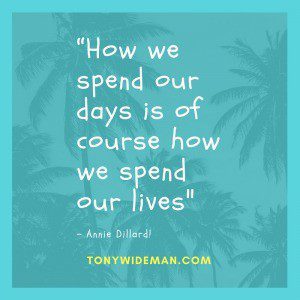 How We Spend Our Days
"How we spend our days is of course how we spend our lives. What we do with this hour and that one is what we are doing." – Annie Dillard,
How we spend our days are important to consider. Hours become days. Days become weeks. Weeks become months. Months become years. Years become lives. Procrastination becomes lives lost and wasted.
How we spend our days are very important. Tell me how you are spending the 168 hours in this week you have been blessed with. Don't waste them 😉
We all have a hobby or something that gets us excited and motivated when we think about it. It only takes one idea to create a very successful business online. Don't have any ideas? No problem, Wealthy Affiliate will help you choose the direction of your business from over 1,000,000 different niches.
[ More ]