Minimalism and Luxury In Japan Countryside Perfect For Relaxing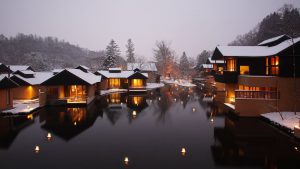 Minimalism and Luxury
Minimalism? When we think of countryside dwellings we inevitably picture rustic homes; warm and cozy places perfect for relaxing and refreshing one's self away from the hustle and bustle of often frenetic city life.
However, today's project is a little different. Minimalism and sleek finishes have been seamlessly juxtaposed against traditionalism to provide a unique and striking abode. Located in the Japanese countryside, this house is a wonderfully open and surprisingly minimal dwelling.
Boasting a living area of 156 square meters and a site area of 239 square meters, this is a truly liveable residence, designed for comfort and enjoyment. Finished in May 2014, Usami Architects have designed a new home, which utilizes traditional Japanese design principles to create a property that far exceeds modern necessity.
Many elements of this house evoke a sense of European influence. Arched pathways and curved ceilings are paired with open living areas that promote social activities, while windows bring the outside 'inside'.
If you would like to take a tour inside this surprising and truly chic country dwelling, check out the images below, and gain a little inspiration for your home today!
A tidy and unassuming minimalism facade
What may look like a relatively plain and normal exterior façade, this home is surprisingly hiding some truly fabulous minimalism interior design? The fascia of the residence is neutral is texture and tone, employing muted earthy hues that work well with the surrounding architectural vernacular.
However, upon closer inspection, this house is definitely a little different than the rest. The home is open and intriguing, with the ground floor offering its occupants a space that maximizes the outdoors, as well as spacious accessible living areas.
Upstairs, the home takes a typical shape and form, with windows to bring in natural light, and a neutral continuation of the lower floor. The most impressive feature of this house is definitely the large open middle section of the residence.
This openness is a unique stylistic choice for the dwelling. Japanese design often opts for a clear distinction between shared and intimate spaces, and this large multi-purpose entertaining space breaks down barriers to ensure a versatile and modern area.
The sleek entrance
This entranceway is a unique and beautifully designed opening. Located on the side of the home, the hallway-like opening is formal in its approach, yet still managing to create a welcoming traditional style.
Space is used and exploited in interesting ways within this abode. Here we get a glimpse of the negative void-like openness that is customary in many Japanese homes, contributing to a Zen, minimalist aura.
Contrasting hues of dark brown and light gray impart a beautiful chromatic juxtaposition that effortlessly adds intrigue. Upon viewing this space, we the viewer immediately wish to travel beyond the threshold and into the home within.
Working with shape and form
Moving into the dwelling, the interior is surprising and impressive. Undeniably Japanese in its influence, the room also possesses many different European elements. The immediate standout features include the door frame and the hanging light fitting.
The curved door frameworks beautifully against the curvature of the adjacent walls, and when contrasted against the geometric lines of the light, impart a sense of originality and interest.
Additionally, the naturally curved lines exude warmth within the space and create a room that envelops its occupant, adding to the hospitable and welcoming aura.
Strong minimalism design elements throughout
Moving into the middle section of the home, which was visible in the initial image, we see the large opening that brings the outside 'inside'. Sliding doors are included, providing a stylish separation when required.
Furniture throughout the home is mid-century modern in its design, providing a chic stylistic choice that works well with the large and often empty interior spaces.
Tradition meets retro-cool
Tatami mats are seen here within this bedroom space, contributing to the overall sense of luxury and traditionalism. A neat light fitting adds a warm glow, and more modern built-in robes offer easy storage of clothes and other household accouterments.
The arched door is again employed and matches the other rooms throughout the dwelling. Utterly tranquil, this room is gorgeously illuminated by the large horizontal window and is a serene sleeping place for individuals of all ages.
Elusive spaces and neat nooks
Looking at the interior from a different perfective, we see the way the internal rooms intersect and work in conjunction with each other. The hallways are a winding maze of rooms and corridors, effortlessly imparting interest within the rather simplistic home.
The color scheme is neutral and muted, adding to the serenity felt throughout the domestic spaces. In the far distance, we see a cozy room that has a study nook, ideal for children to complete homework or a nuisance-free home office.
The essential cooking space
Finally, we reach what many people consider to be the heart of a house; the kitchen. Ultra-modern, practical, and versatile, this timber cooking space is perfectly designed for the home it sits within.
\Made for hectic family life, the stainless steel worktops are employed to withstand the toughest of chefs. Simplistic and minimal, this area is timeless in its modernity and perfectly functional for the sleek yet usable minimalism home.
Create Great Memories With Good Friends and Family
Don't work 8 hours for a company then go home and not work on your own dreams. You prove every day you are capable of building dreams 
( someone else's )
. This powerful free training will help you build your dreams for you and your family.