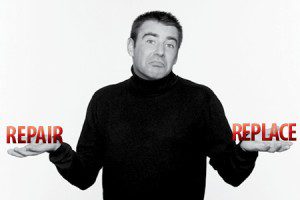 Repair or Replace Your Items
.
Repair or Replace your items to fight consumerism is a question that can be asked for many topics but I am asking it about clothing.
As someone that is moving towards minimalism, the answer should be easy. Repair! Fighting consumerism is important to me.
Let's look at this more closely. Earlier I decided to shrink a number of items in my wardrobe. I did not throw or give anything away, I just did not replace anything until I reached the numbers I wanted.
As I stated in an earlier post when you have so little clothing you begin to realize how quick items wear out. Then you ask the question if you should repair or replace your Items.
At first, I believed the items I bought was not of good quality and that was the cause of the short life. Now that I have tried to buy quality items I still get pants and shirts that are wearing out much quicker than I would like.
Again I ask myself if you should repair or replace your Items.
I believe the problem is cause and effect. I am a Field Engineer with a telecommunications company and I decided to use public transportation whenever possible. This decision has been great 😉
I have become a happy tourist in the area I have lived most of my life. Now I see and experience things I never could when diving by.
I get to see and learn everything the areas I am working that day has to offer.
The problem is this way of travel seems to be taking a toll on my clothing. I walk much more, carry a backpack and sit in much more less comfortable seats.
The friction from walking, sitting in travel and the contact points of my backpack makes quick work of my clothing.
I believe the less clutter and the learning experience of traveling New York, New Jersey, and Connecticut by public transportation are worth it.
I now travel, sightsee and eat like a tourist while working. This change will lead to enjoying it, even more, this summer as you can see in my earlier post this winter was a fun challenge.
I don't mind the question of replacing or repair as I get full use of my clothing and I still keep my wardrobe numbers down. Everything gets used. But there is still a possible work problem with this.
This is where the question may come into play. I am required to dress business casual. Can I repair my clothing and not look like a hobo at work? Is it worth it? I guess
I can re-designate clothing for weekend use but this may lead to excess items and the clutter I was trying to avoid. Or is it just time to admit all things have an end of life and should be discarded?
Looks like I will be doing a combination or repair and replacing items as needed. What would you do?Should you repair or replace your Items?