Minimalist Guide To Visual Stress Relief and Creating Better Space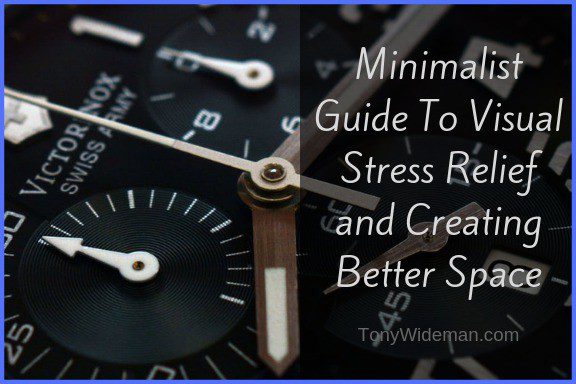 Visual Stress Relief
Visual stress relief can play an important role in achieving better mental and physical health. The good news is visual stress relief is easy to achieve.
If you familiar with the minimalist lifestyle or are a person who dislikes clutter you know the calming effect of entering a clutter-free environment.
We are bombarded with visual clutter constantly in today's world. As our bodies fight to subconsciously block and limit the negative effects of visual clutter, the attack becomes more aggressive.
As we naturally begin to ignore commercials on all forms of media the advertisers increased the volume on the commercials in an attempt to jar your attention.
Similarly, as we begin to ignore banner ads on the internet pop-ups and page welcome mats are used more consistently in an attempt to get our attention.
When we leave our homes the whole world seems to be a giant advertisement. I swear the promos at the movie theater are longer than the featured movie. LOL.
Believe it or not, all of this visual clutter causes stress and visual stress relief is at hand.
Create A Physical Place That Promotes Visual Stress Relief
Unfortunately, It's not just in your head. Visual clutter is causing stress in your life and there is proof. Even something as subtle as keeping a certain room's door in your home close to hide the clutter.
If you feel a small amount of panic when the doorbell rings unexpectedly because you are ashamed of the clutter in your home, visual stress relief will solve that stress pain point for you.
Visual stress can also affect you in your daily life outside of the home.
Many of us subconsciously ignore repetitive visual stress causes and then react like the negative effects are normal. The negative effects of visual stress are not something you have to live with.
Once you understand how your environment has the power to end or perpetuate stress in your daily life you have a newfound power source.
You have the power to create a physical oasis for your mind, body, and personal space to retreat and lessen the effects of visual stress.
When you can create this, your subconscious self recognizes visual stress is not an endless loop and will form a mental association that triggers and seeks relief to avoid being overwhelmed.
Similar to tying a string around your finger to remember something, learn to subconsciously react to cues and seek visual stress relief when needed.
If a constant stream of visual stimulation regularly leaves you feeling hyped up and anxious in your life it's time to seek visual stress relief.
Minimalist living helps me combat visual stress relief and you can develop similar methods to help you as well. Please let me know some of the methods you may have developed to aid you with stress relief in the comments below.
.
Quick Steps To Promote Visual Stress Relief
Combating visual stress requires a good plan. Ignoring potential problems or responding to visual stress with a knee-jerk reaction will not cut it.
Below are Minimalist Living Ideas for visual stress relief and creating better space.
Declutter, declutter, and declutter.
Decluttering your physical and mental space is the foundation of the Minimalist Lifestyle Movement. Most people enjoy a tremendous amount of stress relief after this process.
Most new Minimalists never realized how overwhelmed and boxed they felt when they had all that visual stimulation going on around them.
Allow being cognizant of visual stress to be the canary in the coal mine, an early warning system to alert you when you begin to fall back into your old routines.
Bring The Outside In.
The minimalist lifestyle does not mean your home must have bare walls and bare surfaces. The minimalist lifestyle values owning things you enjoy regularly and things that add value to your life.
Bright flowers and plants will do that for most people. A flower or plant placed here and there will bring joy, value, and help combat visual clutter.
Conclusion
Normally visual stress is not something most people consider and visual stress relief almost never. That does not mean visual clutter is not waging war on you mentally, physically, and spiritually.
You subconsciously recognize it when visual clutter becomes overwhelming but then it's too late, the damage is done. Learn to recognize and avoid visual clutter.
You will enjoy its calming benefits almost immediately. Follow all or some of the tips above and let us know the effects in the comments.
Let us know of anything I missed and anything that helps you achieve visual stress relief.