Walmart Workers Throw Away Food, Then Go Home Hungry

When David Alvarez worked at a Walmart in Tampa, Florida, he regularly chucked unsold tomatoes, potatoes, and bananas into compost bins behind the store. Meanwhile, the food on his own table was much less fulfilling — sandwiches, ramen noodles, milk. It was all he could afford, he said.
Alvarez felt like he was "starving to death," he told The Huffington Post. "I'd been on food stamps the whole time I'd been out there at Walmart because you just cannot make it on what they pay."
For most of his time as a "produce associate," Alvarez, 56, made $9.15 an hour — about a buck more than the Florida minimum wage, but not enough to eat well, he noted. Alvarez was fired in March, he said, for speaking at a rally in support of a $15-an-hour minimum wage. Kevin Gardner, a Walmart spokesperson, told HuffPost that Alvarez was laid off for violating company policies, though he declined to specify which ones.
But Alvarez's time working for Walmart revealed a disappointing truth: Stores regularly toss food that is better than what many of their employees can afford. And while Walmart donates a lot of unsold food to charity, company policy bars employees from taking unsold food home, Gardner said.
Alvarez's story is startlingly common. One in seven American households don't have steady access to healthy meals, yet roughly 40 percent of all the food in the U.S. goes uneaten. Some of this food is composted or turned into animal feed, but most of it winds up in landfills, according to an analysis from the Natural Resources Defense Council.
The causes of food waste are varied, ranging from inefficient supply chains to confusing food labels to widespread contempt for foods that aren't aesthetically perfect. But experts say the problem is clear: The food system as it exists today is deeply flawed.
Lots of people and businesses are coming up with clever ways to conserve, reuse and redistribute uneaten food, and Walmart actually is considered a success story on this front. In its most recent fiscal year, the company donated 611 million pounds of food to food pantries. Since 2009, it has turned more than 25,000 tractor-trailers worth of food into compost, animal feed, and biofuel, according to Gardner. It's Tampa stores did not send any food to landfills in 2015.
However, the company still refuses to stock imperfect fruits and vegetables on its shelves, policy experts say causes a tremendous amount of food to go to waste and should be changed.
.
Take action now: Sign this petition urging Walmart to sell "ugly" fruit and vegetables to reduce food waste. 
.
Furthermore, Alvarez's experience highlights what anti-waste advocates say is an urgent need for better, longer-lasting solutions to the twin problems of hunger and food waste — problems that inspired HuffPost to launch an editorial campaign targeting waste.
For the next few months, our reporters and editors will probe the challenges and potential solutions to the country's waste problem, an issue that has devastating social and environmental consequences, yet is often under-covered in the media. We're calling it the Reclaim campaign. The initial part of the effort focuses on food, though we'll also be covering other types of waste such as packaging and electronics waste.
.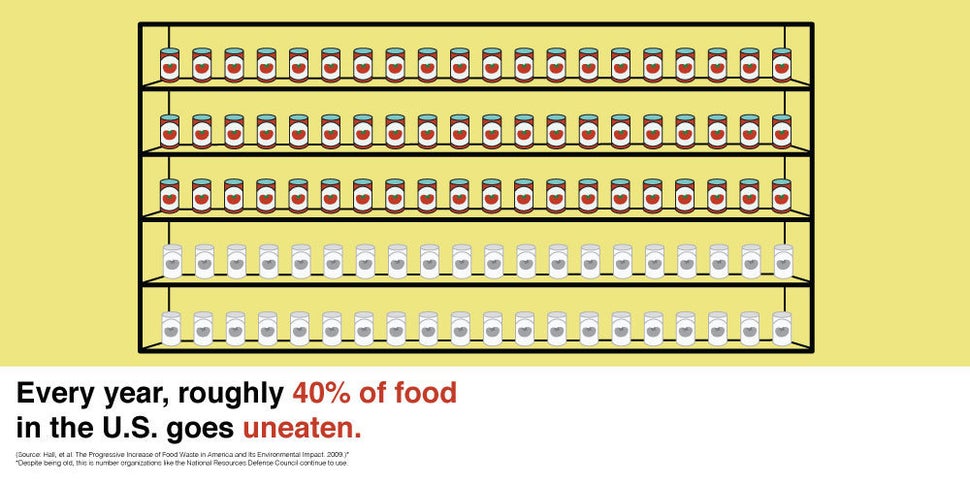 .
Food waste is a collective problem in the U.S. It starts on farms and creeps into factories, warehouses, supermarkets and our own kitchens. And it's expensive: The country shells out a whopping $218 billion growing, shipping and disposing of food that's never eaten, according to the nonprofit research consortium ReFED.
When it comes to food waste in people's homes, one of the biggest issues is confusion over expiration dates, experts say. Date labels can say a lot of different things — "sell by," "use by," "expires on" —  and none of them is particularly useful for communicating when the food will become unsafe to eat. Rather than inform, these perplexing date labels more often cause people to toss perfectly edible fare, according to the National Resources Defense Council.
This tendency to waste might be an inevitable consequence of the country's industrialized food system, according to anti-waste advocates. Many Americans no longer know where their food comes from or how much work it takes to get food onto their plates — and because they are estranged from the sources of their food, it's easy for people to waste, said Niki Charalampopoulou, the managing director of the environmental non-profit Feedback.
"People have lost the connection they used to have with how food is produced," Charalampopoulou told HuffPost. "Now, food just kind of appears."
.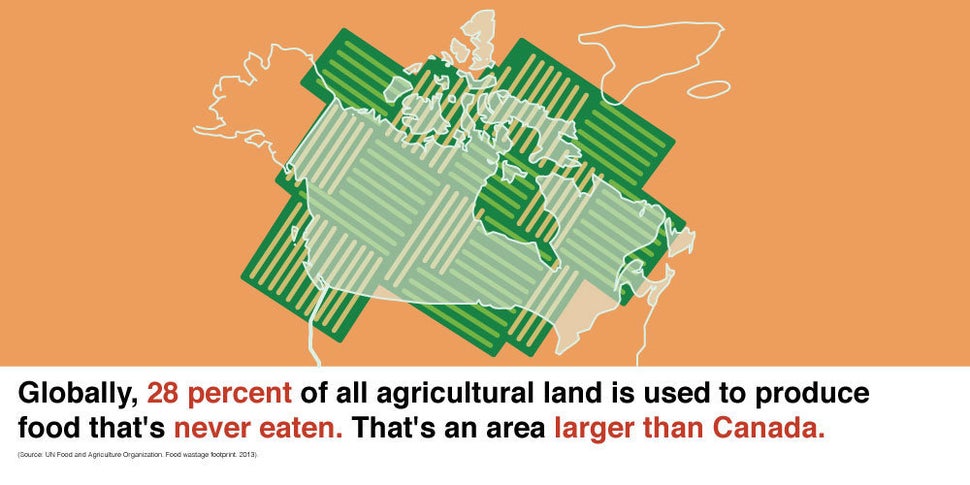 .
But clueless consumers aren't the only ones who throw out what was once perfectly good food. There's waste at every point in the food supply chain. In some cases, shoddy infrastructure, poor storage facilities and a lack of adequate refrigeration cause food to spoil on the way from the farm to grocery stores. In other cases, grocers order too much food from farmers or change their orders on the fly, leaving crates of fruits, vegetables and other goods sitting uneaten in warehouses, according to ReFED.
Retailers also want their food to look appetizing, which means fruits and veggies that don't meet exacting and sometimes bizarre cosmetic standards wind up in the trash. In some cases, beauty standards force farmers to throw away blemished, but perfectly edible, produce before it ever reaches the supermarket.
When farmers raise tomatoes or spinach or chicken no one eats, the fuel, fertilizer, water, and sweat that go into making that food are wasted as well. And all this waste gobbles up huge amounts of money, resources, and land, both in the U.S. and abroad. Globally, more land than the entire area of Canada is used to produce food that is never eaten.
This waste also means less food to go around. And when 795 million people worldwide, like David Alvarez, don't have enough good food to eat, there's little excuse for throwing away food, Charalampopoulou said.
"It goes without saying that it is immoral to waste food, particularly at the industry level, when there are people who need that food," Charalampopoulou said. "There's a lot of food that could be given to people who need it at every step of the supply chain."
.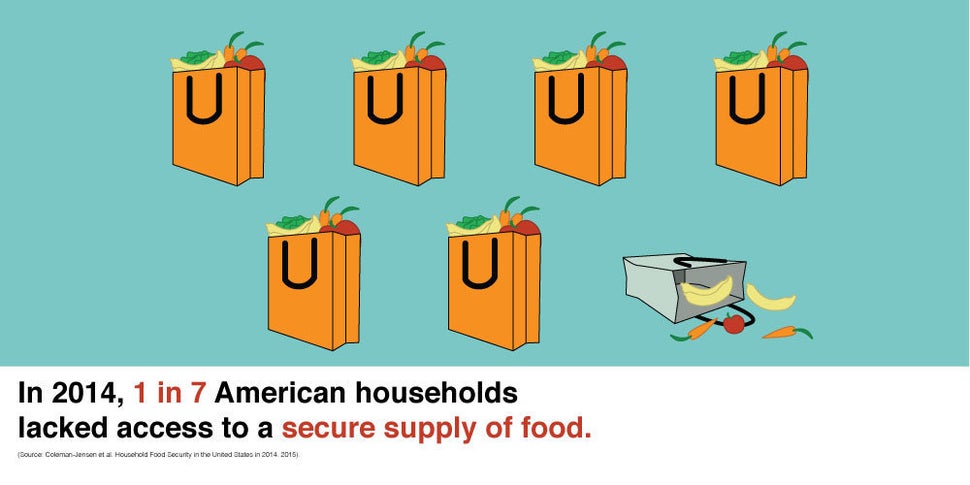 .
Advocates see 2016 as a crucial moment in the battle against wastefulness. There's a growing awareness among consumers that waste can and should be reduced, and more and more businesses are trying to cut waste in their supply chains.
"What is really exciting to me at the moment is the speed with which this issue is being picked up in the U.S.," Tristram Stuart, an anti-waste campaigner and founder of Feedback told HuffPost. "It just feels like the whole country is getting behind the idea that waste on this scale is totally absurd."
Indeed, the country seems to be teeming with diligent composters, dumpster divers, and folks who get a thrill out of cooking with old food. Major retailers — including Walmart, Kroger and Whole Foods — are donating unsold goods to food banks. Meanwhile, startups like Imperfect Produce are finding buyers for the ugly fruits and vegetables that don't make it to supermarket shelves.
Despite a rancorous political climate, lawmakers are even reaching across the aisle to find ways to cut down on waste. In September 2015, President Barack Obama committed to reducing food waste in the U.S. by 50 percent by 2030. And a new bill introduced in the House and Senate in May 2016 seeks to make expiration dates easier to understand, which would help to avoid an estimated 398,000 tons of wasted food each year, according to a report from Harvard University's Food Law and Policy Clinic.
Americans are hungry for these sorts of policy changes, according to Emily Broad Leib, director of the Harvard clinic.
Broad Leib told HuffPost that there "seems to be strong bipartisan support" for the food waste bill. "I think there's really an awareness that food waste is an issue, and this is one of the best ways to start addressing it," she said.
.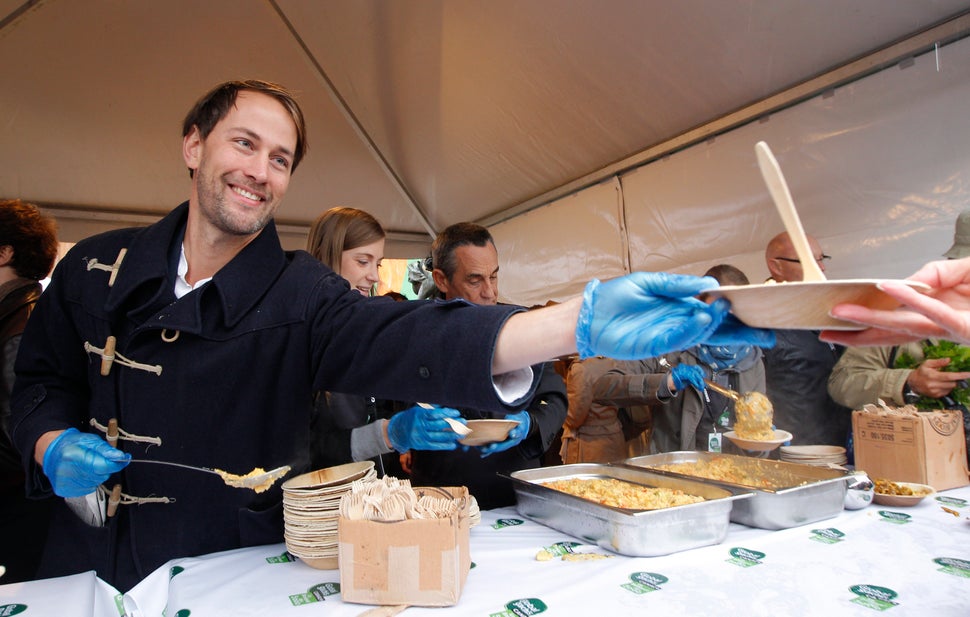 .
But there's more the U.S. can do, according to anti-waste advocates. ReFED has found that relatively simple fixes — like educating consumers on food waste — could significantly curb the amount of food thrown out each year.
There are also other policy measures that could make a difference, like laws that tax people and businesses based on how much trash they throw out. Such laws would discourage waste and reward people who waste less, according to Annie Leonard, executive director of Greenpeace USA and creator of the "Story of Stuff," a popular film about how the economy produces cycles of consumption and waste.
Even simpler measures, like starting composting programs in every city, could immediately put a huge dent in the amount of uneaten food that ends up in landfills, Leonard said.
"If I could do one thing to reduce [landfill] waste in this country overnight, I would make mandatory national curbside composting," Leonard told HuffPost. "It is crazy that we don't compost," she added, estimating that a nationwide composting program could cut the amount of food waste in landfills by a third.
It would also cut down on planet-warming greenhouse gas emissions, she added. In landfills, rotting food releases methane, a powerful greenhouse gas. Globally, food waste is the world's third-largest contributor to greenhouse gas emissions — just after the U.S. and China. Properly tended compost doesn't release methane, and while it does release carbon dioxide, that's a much less potent pollutant.
But eliminating food waste entirely may eventually require us to completely rethink the food system, according to Feedback's Stuart.
"We need a food system that can contribute to protecting the world's environment and is actually designed to feed people," Stuart said. Making that sort of sweeping change, he added, will first require convincing people everywhere of truth as powerful as it is simple: "Food is too good to waste.".