Buy Nothing Day Whirl Mart!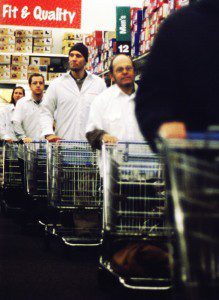 .
Whirl-Mart Ritual Resistance is a participatory experiment. It is art and action. It came into being in 2001 as a response to Adbusters magazine's call for foolish action on the first of April. What began as a single happening in Troy, NY has over the course of a year evolved into a ritual activity that is performed across the U.S., and known around the world.
It is a ritual during which a group gathers and silently pushes empty carts through the aisles of a superstore. Whirl-Mart utilizes tactics of occupation and reclamation of private consumer-dominated space for the purpose of creating a symbolic spectacle.
We all have a hobby or something that gets us excited and motivated when we think about it. It only takes one idea to create a very successful business online. Don't have any ideas? No problem, Wealthy Affiliate will help you choose the direction of your business from over 1,000,000 different niches.
[ More ]
Error, group does not exist! Check your syntax! (ID: 7)