Buy Nothing Day Whirl Mart!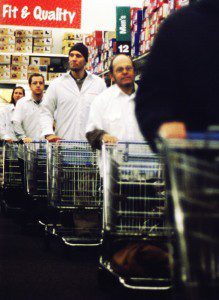 .
Whirl-Mart Ritual Resistance is a participatory experiment. It is art and action. It came into being in 2001 as a response to Adbusters magazine's call for foolish action on the first of April. What began as a single happening in Troy, NY has over the course of a year evolved into a ritual activity that is performed across the U.S., and known around the world.
It is a ritual during which a group gathers and silently pushes empty carts through the aisles of a superstore. Whirl-Mart utilizes tactics of occupation and reclamation of private consumer-dominated space for the purpose of creating a symbolic spectacle.
Create Great Memories With Good Friends and Family
Don't work 8 hours for a company then go home and not work on your own dreams. You prove every day you are capable of building dreams 
( someone else's )
. This powerful free training will help you build your dreams for you and your family.
Error, group does not exist! Check your syntax! (ID: 7)