Learn How Minimalist Lives On Less Than $3K A Year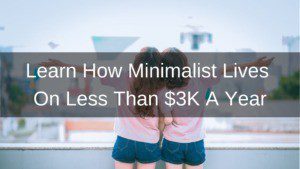 She Lives On Less
Bills pile up this time of year with heating expenses and the approaching holiday season. But one woman lives on less than most."I've always wanted to live up north in the middle of nowhere since I've been 6 years old," says Susan Kulp.
Susan Kulp is a minimalist. "If you add all the bills that everyone has, you're looking, still looking at needing low 20′s to survive, but I just don't have those bills."She lives on less than $3,000 a year, which she uses for propane, animal feed, and hay. In 2010, Kulp moved to northern Maine to be completely self-sufficient. It took her years of planning
.
"You need to make the transition financially and lifestyle wise two and three and four years before you even move to a place like this because you will be going without."
Kulp uses solar panels for power, propane for cooking, and pumps her own water. She also raises her own food from her gardens and her animals. She says nature has taught her how to live.
"If we pay attention to our chickens and our rabbits, and the wildlife, they take what they need and a minimalist lifestyle is only taking what you need."
Kulp makes the little money she uses from selling home-made slippers at fairs. She has a savings account and drives her car as little as possible. She enjoys the 6-mile walk to her mailbox.
"Do you miss being around people every day? No, I am so busy with my lifestyle that is associated with like-minded people, we have a good laugh every time we see each other because we know we're all in the same boat."
Two-thirds of the year, Kulp is busy preparing for the long Maine winter. She says minimalism isn't just what she does, it's her life's philosophy.
"When your needs become your wants and that becomes your norm and you're happy, you start making decisions to maintain that happiness, health, and well-being cause you want more of it because is amazing."
By Adrienne DiPiazza
We all have a hobby or something that gets us excited and motivated when we think about it. It only takes one idea to create a very successful business online. Don't have any ideas? No problem, Wealthy Affiliate will help you choose the direction of your business from over 1,000,000 different niches.
[ More ]