Minimalist Uniform Wardrobe Will Quickly Simplify Your Life
Why not create a Minimalist Uniform Wardrobe today? Our wardrobe can consume a lot of time and money unnecessarily. We spend time shopping for it….
Why not create a Minimalist Uniform Wardrobe today? Our wardrobe can consume a lot of time and money unnecessarily. We spend time shopping for it. We spend time preparing it, mixing and matching it daily.
Why? Sometimes getting an outfit together takes way more time and energy than it should.
Do people really notice what you wear? Some say not really and others say absolutely. Would anyone notice that you have created somewhat of a minimalist uniform wardrobe to save time and money? Would this also simplify our lives?
If what you wear fits you, is clean and in good condition, no one really cares what you wear. People would never notice your minimalist uniform wardrobe. Why waste time and expense on an elaborate wardrobe?
As long as your clothing is somewhat in style you should be fine.
I mean you will not get away with wearing a pirate's costume (in most cases) but any style within the last 20 years should do. Right? LOL.
To save time I would like to create a Minimalist Uniform Wardrobe to wear. I would like to save time by not selecting clothing to wear daily and I would like to save time and money doing less shopping for that clothing.
Not shopping would be a big time saver for me. I would like to walk into a mall select a type of pants and top, purchase about five or six of each, and leave the mall in 30 mins flat. This may be a guy thing but that would be heaven for me.
Choosing Your Minimalist Uniform Wardrobe
The minimalist uniform wardrobe is designed to save space, time, and money, and reduce the negative effects of shopping. The minimalist time and money-saving uniform will be different for everyone.
Also, you may need more than one uniform. It's like a Policeman or Fire Fighter. They have what they wear for daily work and they have what they wear for dress situations.
For what I do business casual works for me almost always for me. I am looking to create a Steve Jobs look. Steve Jobs was always seen with a black turtleneck shirt and blue jeans.
Nothing fancy, just simple and efficient. I will choose a similar comfortable pant and top combo. I will purchase about five or six of both and wear them Every day. Yes, I am at that point.
I am loving minimalism and posted about downsizing my wardrobe earlier.
When I posted about wardrobe earlier I explored type and quality. I found it was better to buy high-quality clothing. The fact that my Minimalist Uniform Wardrobe was much smaller and  I was wearing pieces much more often, the lower-quality clothing did not hold up well.
The lesser quality clothing wore out very quickly.
If you need business attire I could see you adding more variety to your uniform. I could see a guy having a few suits and maybe white shirts or a woman having a few pants, skirts, tops, and a blazer.
For me, the purpose of creating a Minimalist Uniform Wardrobe is to save time, money, and brainpower. Up and out of the door quickly without even a second thought.
.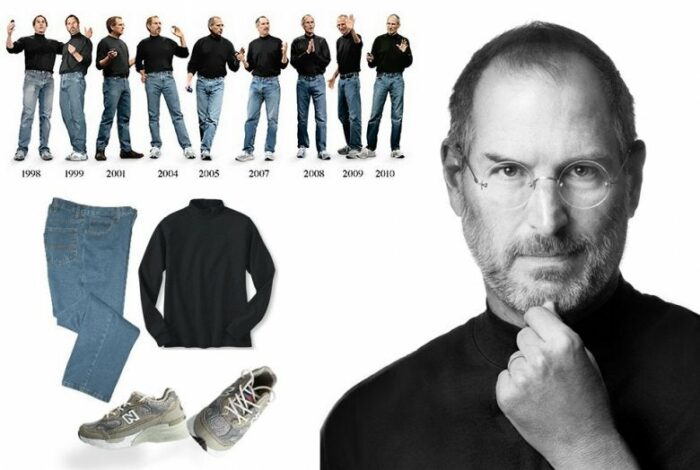 Minimalist Uniform Wardrobe
Simplify, Time, Money, and Brain Power
My hope is to have to choose what to wear every day to be effortless. I would like to save massive amounts of time buying and choosing clothes. The word massive may seem to be overkill but this wasted time can add up.
I don't even want to waste brainpower thinking about it every day. I will not be like Steve Jobs but close to it. Just think about it. Steve Jobs sent a shopper to buy his classic black turtleneck top and a pair of blue jeans by the case.
Or maybe he purchased them himself online and had Amazon Prime next-day delivery. How cool and easy is that for everyone? Quick and fast. No thinking and no disappointment.
Five pairs of pants and five tops will last months and I will spend the time and money saved with loved ones or doing what I really love.
Activities and Hobbies
Activities and Hobbies can be excluded from the Minimalist Uniform Wardrobe ritual. These are done during leisure time when I will be doing and spending time with the ones I care about. The fun times, where time and urgency are not important.
These are the time we are shooting to have more of. These activities also often require specialized clothing anyway.
You can take parts of this Minimalist Uniform Wardrobe and craft it into your daily uniform but even that seems like too much work for me. Remember we are looking to save time and move towards ease of use and less possession.
Use this time to relax and unwind. The uniform will be used to save time, have cut out stress and clutter during the workweek. The weekends and downtimes are to be enjoyed!
Why Not Wear a Minimalist Uniform Wardrobe?
The other side of the coin is the ability to wear what you like. Put aside the ease, time, and money savings. have a favorite outfit why only wear it once a week or once a month?
Who said that an outfit that looks good on you or makes you feel good should only be worn sparingly only on special occasions? Why not craft a uniform around it?
Why not look and feel good every day? Even the Pirate Costume or Naughty Nurse costume can work as a daily uniform. LOL.
(Visited 1,533 times, 1 visits today)