15 Yoga Poses for Stress Reduction
I believe you will find tremendous value in these 15 yoga poses for stress reduction. Stress has become an inevitable part of our lives. The demands of work, family, and social commitments can often leave us feeling overwhelmed and anxious.
Thankfully, yoga offers a holistic approach to combating stress and finding inner peace. In this post, we will explore 15 yoga poses that are specifically designed to help reduce stress and promote relaxation.
Child's Pose (Balasana) – The Ultimate Relaxation Pose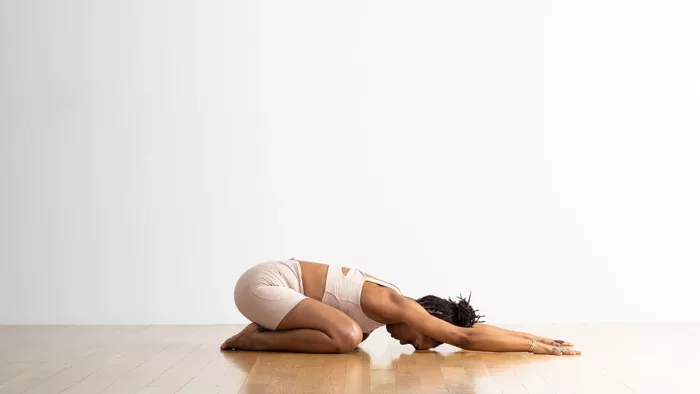 Child's Pose is an excellent starting point for your stress-relief journey. This gentle yoga pose helps to calm the mind and relieve tension in the back and shoulders.
To perform this pose, kneel on the floor, touch your big toes together, and sit back on your heels while reaching your arms forward.
Rest your forehead on the ground and take deep, calming breaths.
Cat-Cow Pose (Marjaryasana-Bitilasana) – The Stress-Busting Duo
Cat-Cow Pose is a dynamic duo that combines two yoga poses to create a flow that relieves stress and improves flexibility.
Start in a tabletop position, inhale as you arch your back (Cow Pose), and exhale as you round your back (Cat Pose).
This rhythmic movement helps release tension in the spine and promotes relaxation.
Downward-Facing Dog (Adho Mukha Svanasana) – Stretch Away Your Worries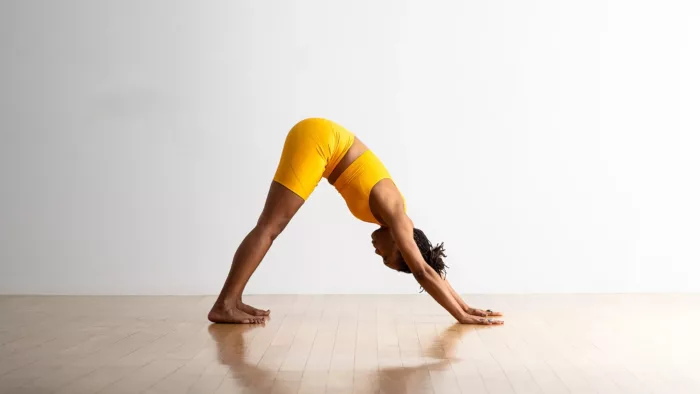 Downward-Facing Dog is a classic yoga pose that not only stretches the entire body but also calms the mind.
Begin in a push-up position and push your hips up and back, forming an inverted V shape. This pose helps release tension in the shoulders and back while increasing blood flow to the brain, promoting mental clarity.
Bridge Pose (Setu Bandhasana) – Open Your Heart and Ease Your Mind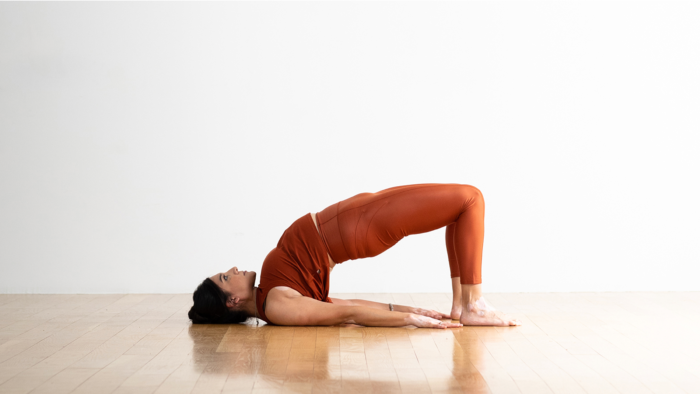 Bridge Pose is a heart-opening yoga posture that can help reduce stress and anxiety. Lie on your back with your knees bent and feet hip-width apart.
Lift your hips and chest while pressing your feet and arms into the ground. This pose opens the chest, improving lung capacity and relieving stress.
Legs Up the Wall Pose (Viparita Karani) – Drift into Tranquility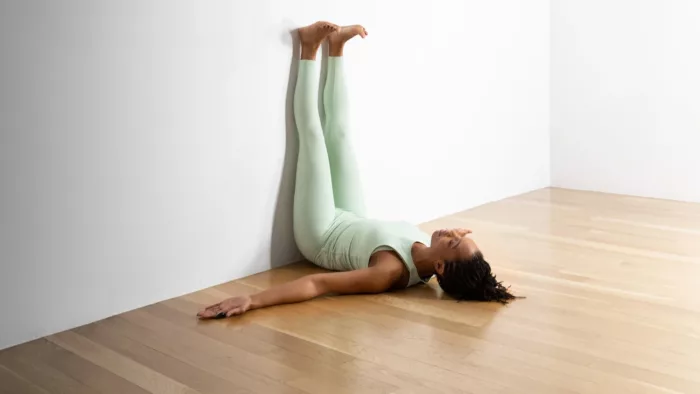 Viparita Karani, or Legs Up the Wall Pose, is a restorative yoga pose that encourages relaxation and reduces stress.
Lie on your back with your legs extended up against a wall. This pose promotes healthy circulation, calms the nervous system, and eases the mind.
Corpse Pose (Savasana) – Complete Relaxation for Body and Mind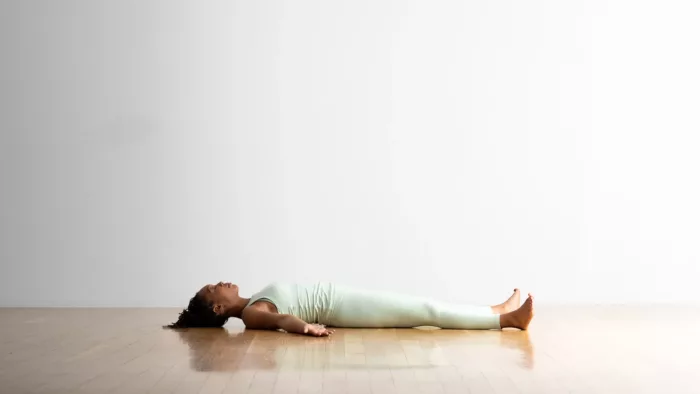 Savasana, or Corpse Pose, is the ultimate relaxation posture in yoga. Lie flat on your back, arms and legs relaxed, and close your eyes.
This pose allows you to let go of all physical and mental tension, entering a state of deep relaxation.
Cobra Pose (Bhujangasana) – Uplift Your Spirits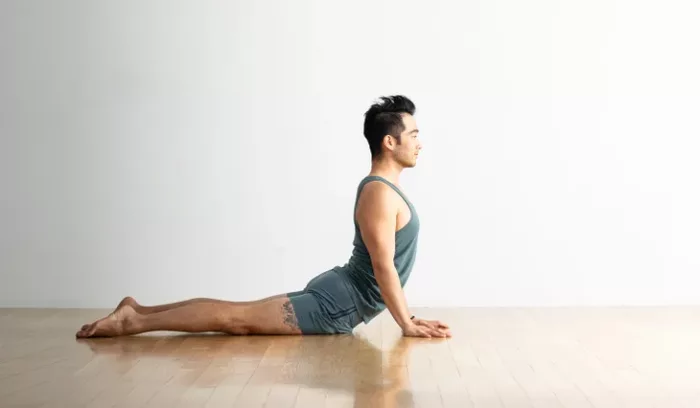 Cobra Pose is a backbend that not only enhances spinal flexibility but also uplifts your mood.
Lie face down with your hands under your shoulders and gently lift your upper body off the ground. This pose opens the heart and chest, releasing stress and tension.
Seated Forward Bend (Paschimottanasana) – Let Go of Tension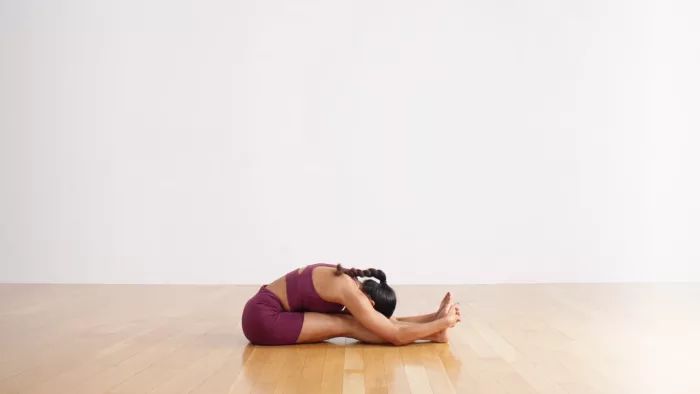 Paschimottanasana, or Seated Forward Bend, is a seated stretch that targets the lower back and hamstrings.
Sit with your legs extended, hinge at the hips, and reach for your toes. This pose helps calm the mind, alleviate stress, and improve flexibility.
Camel Pose (Ustrasana) – Release Stress from Your Back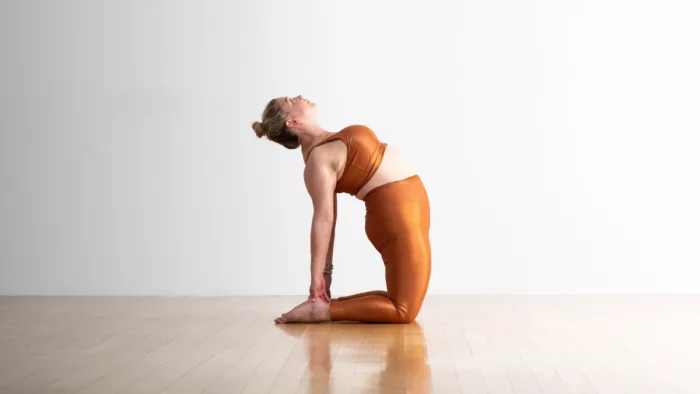 Camel Pose is a powerful backbend that releases tension in the spine and chest.
Kneel on the floor, arch your back, and reach your hands to your heels.
This pose not only stretches the front of the body but also promotes emotional release and stress reduction.
Triangle Pose (Trikonasana) – Balance and Soothe Your Mind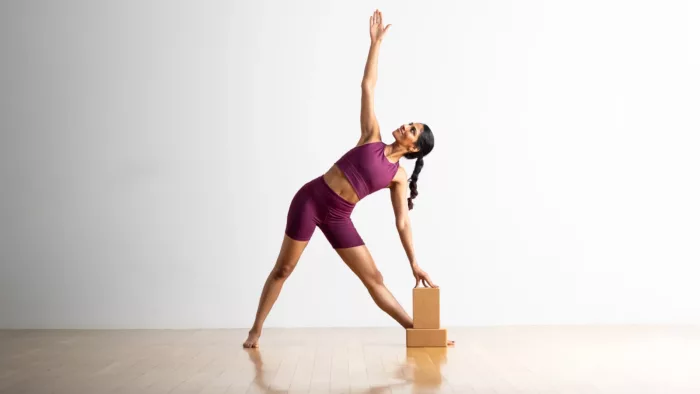 Trikonasana, or Triangle Pose, is a standing pose that promotes balance and relaxation.
Stand with your feet wide apart, reach one hand down to the shin or the floor, and extend the other arm toward the ceiling.
This pose opens the chest and helps alleviate stress while improving concentration.
Happy Baby Pose (Ananda Balasana) – Embrace Your Inner Child
Happy Baby Pose is a playful yoga posture that relieves lower back tension and encourages relaxation.
Lie on your back, bend your knees, and grab the outsides of your feet.
Gently rock from side to side to release stress and bring a sense of joy and lightness.
Warrior II Pose (Virabhadrasana II) – Find Strength and Serenity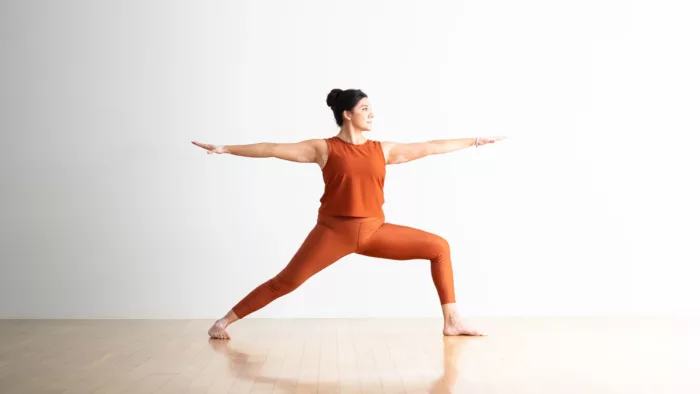 Warrior II Pose is a powerful standing pose that builds strength and inner serenity.
Open your legs wide, bend one knee, and extend your arms parallel to the ground.
This pose encourages focus, balance, and a sense of calm amidst life's challenges.
Extended Puppy Pose (Uttana Shishosana) – Melt Away Stress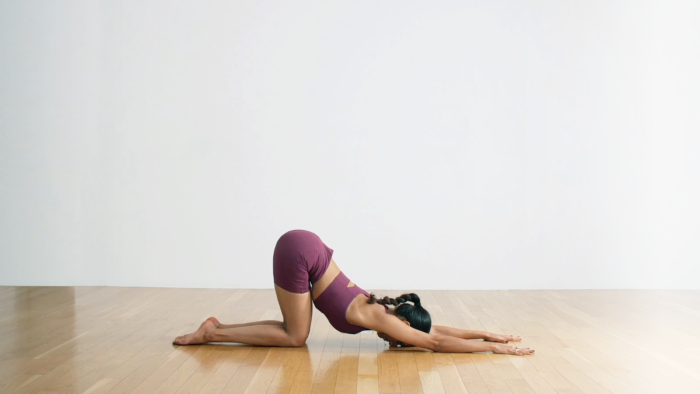 Extended Puppy Pose is a gentle forward bend that relieves tension in the shoulders and back.
Start in a tabletop position and walk your hands forward while keeping your hips over your knees.
This pose promotes relaxation and soothes the mind.
Supine Spinal Twist (Supta Matsyendrasana) – Detoxify and Unwind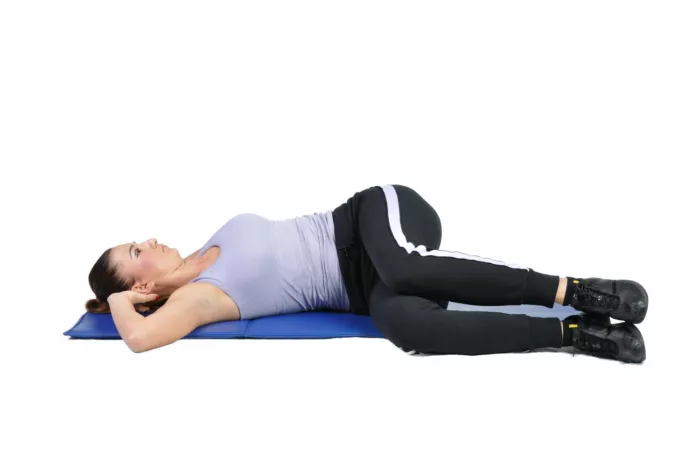 The Supine Spinal Twist is a restorative twist that helps detoxify the body and reduce stress.
Lie on your back, bend your knees, and twist them to one side while extending your arms in opposite directions.
This pose massages the internal organs, promoting relaxation and stress relief.
Meditation (Dhyana) – The Path to Inner Peace
Meditation is the cornerstone of stress reduction in yoga.
Find a quiet space, sit comfortably, and focus on your breath.
Meditation helps clear the mind, reduces anxiety, and promotes a deep sense of inner peace.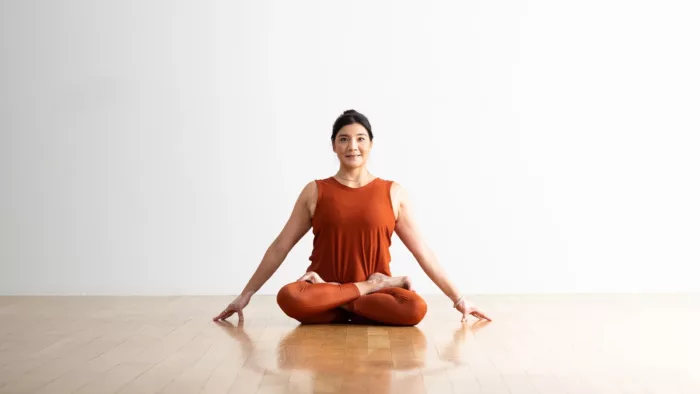 Conclusion
Incorporating these yoga poses into your daily routine can significantly reduce stress and promote overall well-being.
Remember that yoga is not just about physical postures; it's a holistic practice that harmonizes the body, mind, and spirit.
Take the time to unwind, breathe deeply, and embrace the transformative power of yoga for stress reduction.
Frequently Asked Questions
How often should I practice these yoga poses for stress reduction?

It's beneficial to practice these poses daily, even if just for a few minutes. Consistency is key to managing stress.

Can beginners perform these yoga poses?

Yes, most of these poses are beginner-friendly, but it's essential to start slowly and listen to your body. Consider seeking guidance from a yoga instructor.

When is the best time to do these yoga poses for stress relief?

You can practice these poses at any time of day, but many people find mornings or evenings to be the most relaxing.

How long should I hold each yoga pose?

Aim to hold each pose for 30 seconds to 1 minute, gradually increasing the duration as you become more comfortable.

Are there any specific breathing techniques to use with these poses?

Deep, slow, and mindful breathing is generally recommended with these poses to enhance relaxation and reduce stress.
(Visited 6 times, 1 visits today)